TWO WEEKS VALUE ADDED TRAINING ON INDUSTRIAL AUTOMATION – ME
May 18, 2019

Posted by:

admin

Category:

ME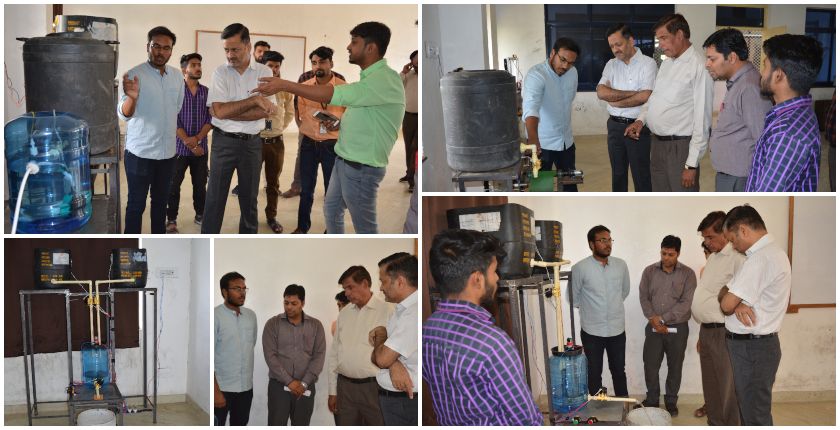 The department has organised two weeks value added training for third year mechanical engineering students on Industrial Automation from 1st May 2019 to 15th May 2019.Industrial Automation is one of the key areas where demand of skilled automation engineers is very high.
Experts from Sofcon India Pvt Ltd, Mr. Abhinov Chakraborty (Regional Manager), Mr. Ajay Gupta (Sr. Engineer) and Mr. Sudhir Verma (Technical Support Engineer) delivered theory as well as practical sessions to the students during these two weeks.  The training includes hands- on experience in computer operated control systems like PLC-Programmable Logic Controller, SCADA-Supervisory Control and various different types of sensors. Students learned to integrate the electronics/ electric devices with mechanical system for the purpose of automation. At the end of the program, three different projects were made, viz., Automatic bottle plant, Automatic batch mixing plant and water treatment plant controlled by PLC. All these projects covered a lot of benefits like low power consumption, low operational cost, less maintenance, accuracy and many more.
The Director GITS, Prof. Vikas Misra, interacted with students and emphasized that, engineers who stick on to automation field have had the most fruitful and long lasting career. With experience, it creates an unmatchable demand in this industry such that the automation engineer gains full control in this sector with healthy remuneration. 
Certificates of National Skill Development Corporation, India, were distributed to participants in the valedictory function of the workshop. Dr. Deepak Paliwal, HOD Mechanical, conveyed vote of thanks to trainers for giving valuable support in the development of prototypes which have vast application in many industries like milk industries, chemical, food, and mineral water. HOD also conveyed thanks to faculty members and participated students for their active contribution towards centre of excellence in mechanical engineering department.
September 2023
M
T
W
T
F
S
S
1
2
3
4
5
6
7
8
9
10
11
12
13
14
15
16
17
18
19
20
21
22
23
24
25
26
27
28
29
30