SPIC MACAY CONDUCTS GOTIPUA DANCE PERFORMANCE AT GITS
July 31, 2019

Posted by:

admin

Category:

News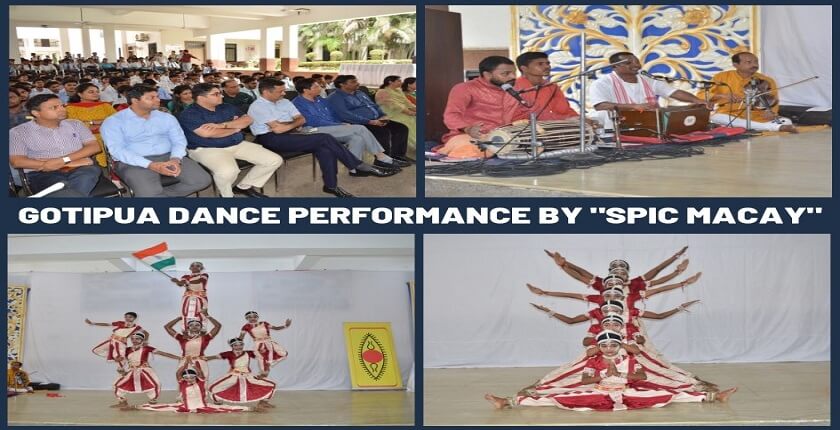 Society for Promotion of Indian Classical Music and Culture Amongst Youth (SPIC MACAY), in association with the local Rajasthan Chapter organized a dance performance at GITS on Wednesday, 31st July 2019.
Director, Dr. Vikas Misra welcomed the performers and in his address informed the students that SPIC MACAY is a voluntary, non-political, not-for-profit organization founded to enrich the quality of education by increasing awareness about different aspects of Indian heritage, arts and culture which are foundation to our national identity. As responsible citizens we owe it to the future generations to promote intangible aspects of Indian cultural heritage; its classical and folk music, dance, yoga, meditation, crafts and other aspects of Indian culture. We are hoping to invite many renowned artists to perform and share the rich culture of our country with the students.
The lec-dem performance of the Gotipua, a 1000 year old traditional dance form originating from Orissa performed in the Jagannath temple, was performed by 11 dancers with its music ensemble comprising vocals, mardala, harmonium, violin and bansuri. The impressive and energetic performances of Mangala Charan, Abhinaya- Singha-wai and Bandha Nrutya held the audience in rapture.
The Finance Controller, Mr. BL Jangir said that Spic Macay conducts more than 5,000 events yearly in over 500 towns in India and it was our delight to host this event.