POOL CAMPUS INTERVIEW OF APPCINO TECHNOLOGIES PVT. LTD.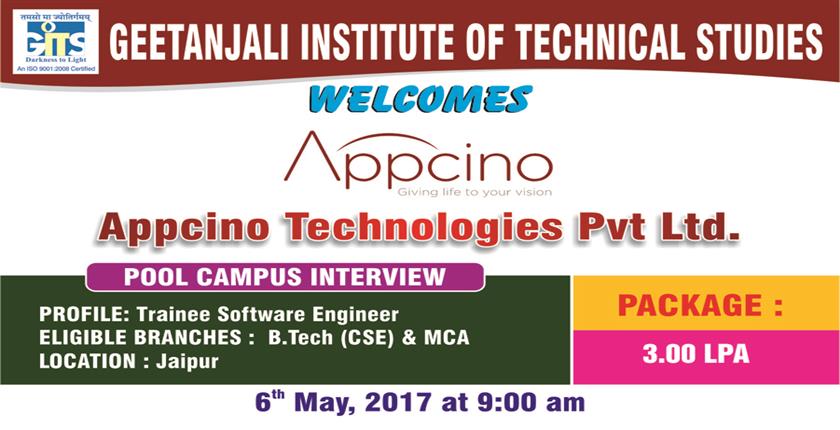 GITS is organizing Pool Campus Interview of Appcino Technologies Pvt. Ltd. for B.Tech (CSE) & MCA (2017 Batch)  on 6th May 2017 at 9:00 am @ Package of 3.00 LPA.
Job Description for the students of college, we are currently looking to get each and every final year student from CS, MCA to get interviewed. Firstly, we would like to introduce you about our Organization Appcino very precisely as follows-
Appcino Technologies Pvt Ltd.
Headquarter- Jaipur, Rajasthan. Website- http://www.appcino.com Founded in- April 2013
Services provided by Appcino- APPIAN, SALESFORCE & its Testing opting the latest techniques
We Hereby provides the best services in APPIAN, SALESFORCE & its Testing as per the Standards of APPIAN & SALESFORCE opting their latest methodologies & techniques with end-user support. Appcino is a Global implementation partner with APPIAN & SALESFORCE. We have a team which has been trained & certified by the APPIAN & SALESFORCE individually. Appcino is an organization which values the productivity most and is suitable because of four Core Values and those are Integrity, Commitment, Excellence & Customer Satisfaction.
We at Appcino, hire freshers as Trainee Software Engineer, we want them to stay for next 2 years in the organization with a service agreement/bond of 2 years. and you have to join Immediately.
In the span of 2 years your package will be following.
for 1st 6 months 10,000/- in hand (no deduction)
for next 12 months 20,000/- in hand (no deduction)
for next 6 months 25,000/- in hand (no deduction)
Process of selection.
Technical paper pen test based on programming, Database, Aptitude, listening test etc.
Personal interview with Tech lead and HR (Communication and Technical concepts).
Personal/group interview with CEO of the Organization in office
Once you get shortlisted though all the technical rounds you will be trained in technologies like: –
Salesforce, Appian, Sail Programming, Process modeling, Smart Services, Integration, Ionic,Angular JS, Apex Trigger, Apex classes, Visual force, Flows, Approval process, SLDS, Lightning, Process builder, REST API, DocuSign, Conga Composer, Draw loop, Steel brick, JavaScript, Angular 2,Workflows,Eclipse, ANT (Deployment),Sharing rules, Security Settings, Setting a community, QA, Automation, Manual Testing, Ruby, Cucumber, Regression Testing, Integration Testing, Selenium, Agile, Sprint, Gira, Bug Tracking tools, Test Cases Manager, Executions, Boundary Value analysis, Equivalence, BDD Framework, Integration – Dell Boomi, Jitterbit, XeBee, Payment Gateway,Automation framework
Decision would be dependent on the management in which multiple Team/Technology you would be working.
December 2023
M
T
W
T
F
S
S
1
2
3
4
5
6
7
8
9
10
11
12
13
14
15
16
17
18
19
20
21
22
23
24
25
26
27
28
29
30
31