LUXURIOUS MILEAGE ELECTRIC BIKE BOLT BUILT BY THE GITS – EIT TEAM
March 24, 2018

Posted by:

admin

Category:

EE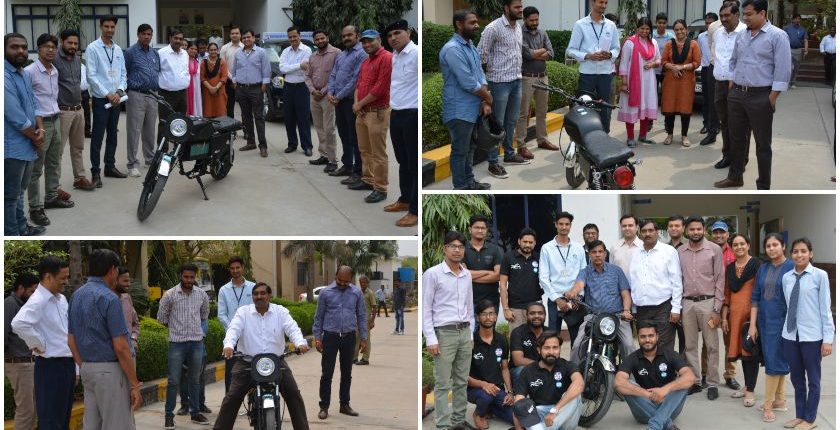 B.Tech – Students studying in Geetanjali Institute of Technical Studies, Dabok-Udaipur, have created excellent mileage pollution-free electric bikes "BOLT".
Mr. Kapil Agarwal, Vice Chairman, Geetanjali Group launched the Electric Bike BOLT, told that IIT Roorkee has included this Bolt bike in their Technical Fest Cognizance 2018 exhibition. This Technical Fest organized by IIT Roorkee is Asia's second largest technical festival.
Dr. Vikas Misra, Director of the Institute, conveyed that this is an electric bike, which covers the maximum distance of 150 kilometers with tremendous pick-up after one-time full charge, it takes about 3 hours for the bike to be fully charged.
Dr. P. C. Bapna, Head of Electrical Engineering Department conveyed that the speed of this BOLT bike is 55 kmph. He also conveyed that Our country is moving towards smart city nowadays, using such a bike will prove useful. Student Divya Bhatt, Deep Dave, Pranav Paneri, Abhay Singh and Abhishek Dadhich have been contributing to the creation of this eco-friendly bike under the guidance of Assistant Professor Bherudas Vairagi and EIT Lab In-charge Assistant Professor Rameshwar Deora. It has taken 2 months to build this bike and its total cost is Rs. 1,50,000. In future, this electric bike will be produced commercially and its price will be 50,000 kept so that this electric bike will be easily available to the general public. The process of connecting this electric bike with smart system has started and it will be completed soon.
LUXURIOUS MILEAGE ELECTRIC BIKE BOLT BUILT BY THE GITS – EIT TEAM
December 2023
M
T
W
T
F
S
S
1
2
3
4
5
6
7
8
9
10
11
12
13
14
15
16
17
18
19
20
21
22
23
24
25
26
27
28
29
30
31