INTERNATIONAL SEMINAR ON SOFTWARE PRODUCT MANAGEMENT AND DIGITAL MEDIA APPLICATIONS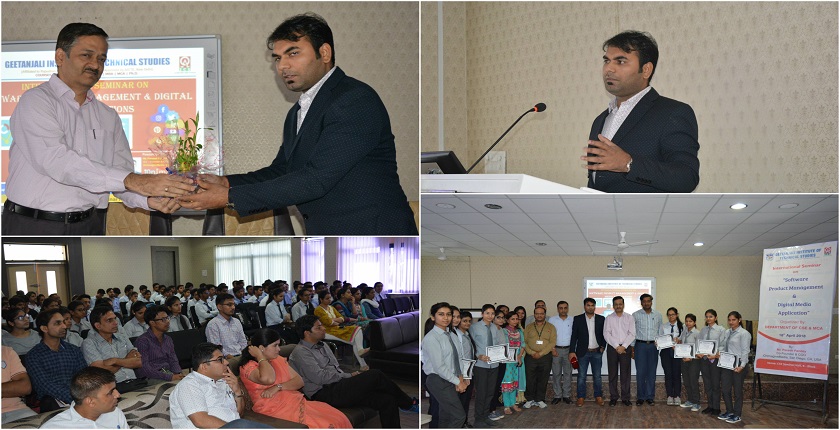 Geetanjali Institute of Technical Studies (GITS) Dabok, Udaipur has organized one day International Seminar on the Software Product Management and Digital Media Applications by Department of CSE and MCA.
GITS Director Dr. Vikas Misra conveyed that the main objective of the said seminar is too made known to forth coming Engineers regarding new technology and to introduce the audience to the Software Product Management and Digital Media Applications. This seminar highlights the importance and role of software product management.The one day Seminar was conducted under the supervision of Dr. V. R. Raghuveer (HOD, CSE) and Mr. Hemant Sahu (HOD, MCA). The seminar was addressed by Mr. Pravesh K. Pandey, (Co-founder and COO iOnImagineMedia, San Diego, CA, USA) to the Participants. They conveyed that now a day's industry dependency on computer and Software are increasing. They explain the value of process, requirements, planning, and monitoring in producing better software.
The Digital Media Module provides a foundation for all media design activities. The audience is introduced to theories, methods and practical processes involved in time-based and interactive media production. The module encourages audience to adopt an analytic, creative and ethical approach to the resolution of basic media design problems. The module of seminar integrates theoretical and practical aspects of design processes in the four specializations of Digital Media.
December 2023
M
T
W
T
F
S
S
1
2
3
4
5
6
7
8
9
10
11
12
13
14
15
16
17
18
19
20
21
22
23
24
25
26
27
28
29
30
31