GITS WON 2ND PRIZE AT GLOBAL INDIA HACKATHON-2022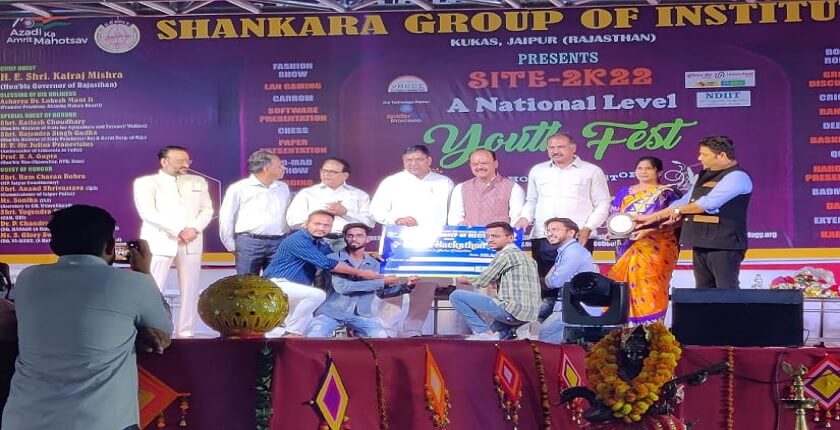 The students of Geetanjali Institute of Technical Studies were recently announced as the 2rd winners of Global India Hackathon-2022 organized by Shankra Group of Institutions, Jaipur.
Chief guest in this event are Honorable Governor Shri Kalraj Mishra, Loksabha Speaker Shri OM Birla and Vice Chancellor of RTU Kota Dr. R.A. Gupta.
There were total 1000+ teams participating in the event at first stage. At second stage the 150 ideas were filtered out and at 3rd stage final presentations were made and were detailed in front of the jury. The event was conducted on 23th-24th Apr 2022 in offline mode and the team was declared as 2nd winners on 24th Apr 2022 & won the Rs.15000 cash prize by Designing "Intelligent Drip Monitoring System for Health Care Sector.
The team gems are Bheru Choudahry, Roshan Khan Mev, Sourabh Malviya, Mohammad Ateek Samma, Shubham Vagrecha & Bhavik Suthar achieved this feat.
Global Hackathon 2022 is yearly occasion viewed as the greatest stage in the country which unites understudies, the general population, scientists, pioneers and specialists from around the globe to encounter the delight of doing science for the prosperity of individuals and mankind.
June 2023
M
T
W
T
F
S
S
1
2
3
4
5
6
7
8
9
10
11
12
13
14
15
16
17
18
19
20
21
22
23
24
25
26
27
28
29
30