EXCELLENCE AWARD CEREMONY 2017
February 28, 2017

Posted by:

admin

Category:

News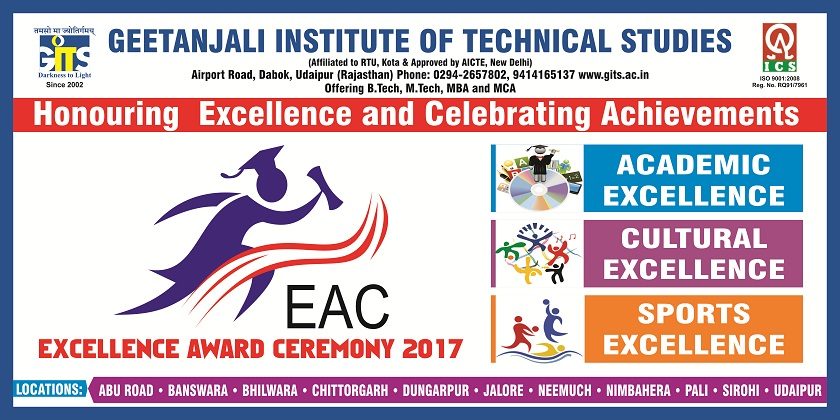 Education is a pretty broad concept that surpasses the four walls of a classroom. The core aim of education is to foster all round development of a student. All round development essentially means intellectual, physical, moral, sensible and social development. All round development can be achieved only through education. Education plays a fundamental role in transforming individual into culturally well-developed asset of society. To fulfil these objectives, there is a prime need of striking a balance between Academic, Cultural and Sports activities.
To fulfill this role of transforming students, Geetanjali Institute of Technical Studies has taken initiative to appreciate the achievements of students in field of Academics, Sports and Cultural. The event was organized in 7 district namely Neemuch, Chhitorgarh, Dungarpur, Udaipur, Bhilwara, Banswara & Pali. Total 1470 talented students from 120 schools were appreciated in this ceremony. This award ceremony comprises of awarding Certificate & Trophy and Scholarship of Rs.11000/-, 7000/- & 5000/- to all the meritorious award winner in the three distinguished categories.
The objective of organizing "Excellence Award" was appreciated by the dignitaries
The ceremony was graced with presence of eminent dignitaries as:-
Sidharth Sihag (Commissioner Municipal Corporation, Udaipur) 
K C Sharma (District Education Officer, Neemuch)
K K Gupta (Chairman, Municipal Corporation, Dungarpur) & Mr. Laxman Singh Malawat (District Education Officer, Dungarpur)
Radhey Shyam Sharma (District Education Officer, Chittorgarh)
Vithal Awasthi (Member of Legislative Assembly, Bhilwara)
Manju Bala Purohit (Chairman Municipal Council, Banswara) & Mr. Kanhiya lal Vaishnav (Additional District Education Officer, Banswara)
Gyan Chand Parakh (Member of Legislative Assembly, Pali)
Prof. Rajeev Mathur and Prof. Vivek Sharma have given inspirational address advising the students for career options available after 12th. The ceremony concluded with group photographs of School Principals, Faculty members, parents and winners (Student).
Prof. Dr. K N Sheth – Director, Sh B L Jangir – Finance Controller, Prof. Rajeev Mathur – Dean (Students Affairs), Prof Vivek Sharma along with Faculty Members (Asst. Prof. Dinesh Yadav, Asst. Prof. Saurabh Porwal, Asst. Prof. Mohit Mathur, Asst. Prof. Rahul Moud, Asst. Prof. Himanshu Raj Singh, Asst. Prof. Ronak Shirmal, Asst. Prof. Mukesh Choudhary, Asst. Prof. Jitendra Charan, & Asst. Prof. Chintal Patel of GITS were present.
December 2023
M
T
W
T
F
S
S
1
2
3
4
5
6
7
8
9
10
11
12
13
14
15
16
17
18
19
20
21
22
23
24
25
26
27
28
29
30
31