CAMPUS INTERVIEW OF METACUBE SOFTWARE PVT. LTD.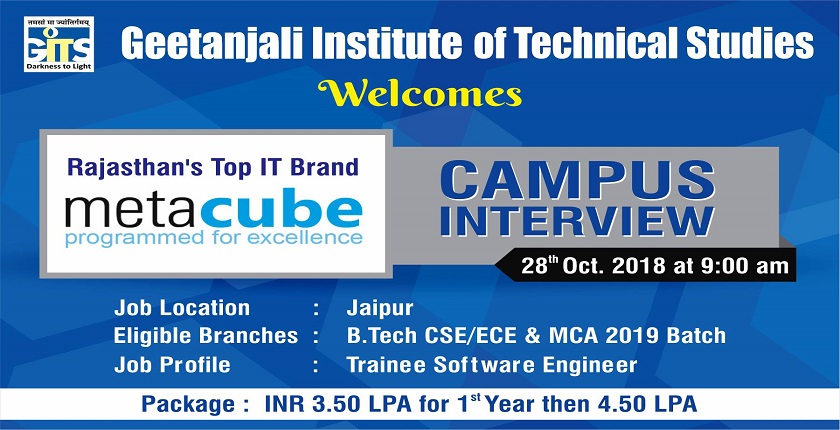 GITS is organizing the Campus Interview of Rajasthan's Top IT Brand MetaCube Software Pvt. Ltd. for the Profile of Trainee Software Engineer @ Package of INR 3.50 LPA for 1st Year Then 4.50 LPA on 28 October 2018 at 9am.
Company Profile
MetaCube is a leading software product development services company, partnering with both start-ups and established players globally in their innovation journey. They are also helping Fortune companies leverage technologies that are disrupting traditional ways of conducting business. Their customer footprint today is spread across US, Canada, UK, Europe and APAC.
Job Profile: Trainee Software Engineer
Package: 3.50 LPA for 1st Year Then 4.50 LPA
Eligible Branches: B.Tech CSE/ECE & MCA
Eligibility Criteria: Throughout 60% in 10th /12th / B.Tech & MCA (No Backlogs)
Job Location: Jaipur
GET & PURPOSE
* The GET (Graduate Engineering Trainee) program has been created strategically to meet Metacube's human resource requirements by nurturing talented fresh engineering graduates into high quality software professionals.
* GET program includes six-month intensive theoretical and practical training on one or more of technology platforms such as J2EE, .Net, SFDC, Angular etc. Subsequent to the training the candidates get the opportunity to work on real life challenging projects with global teams giving them exposure to latest engineering processes, tools, technologies and ideas.
EXAMINATION PATTERN
* Eligible candidates will appear for the online GET Programming Aptitude Test. The test consists of objective questions primarily based on program fragments, and tests the understanding of candidate with respect to programming concepts and logic.
* Candidates shortlisted on the basis of GET Programming Aptitude Test will appear for the online Advanced Programming Test on the same day. In the Advanced Programming Test, the candidate is asked to write programs/functions for 4-5 problems using one of the following programming languages- C, C++ or Java.
* Candidates shortlisted on the basis of The Advanced Programming Test will be invited for Personal interview at Metacube office premises. Personal Interview will be technical in nature.
DATE OF JOINING
* Offered candidate will join Metacube as Software Engineer Trainee on 10th January 2019.
COMPENSATION
* CTC of 3.5 lac per annum for the first year from the date of joining.
* CTC of 4.5 lac per annum for the second year from the date of joining.
All trainees will sign a bond of two years from the date of joining.
June 2023
M
T
W
T
F
S
S
1
2
3
4
5
6
7
8
9
10
11
12
13
14
15
16
17
18
19
20
21
22
23
24
25
26
27
28
29
30