CAMPUS INTERVIEW OF LIUGONG INDIA PVT LTD. FOR MECHANICAL & AUTOMOBILE STUDENTS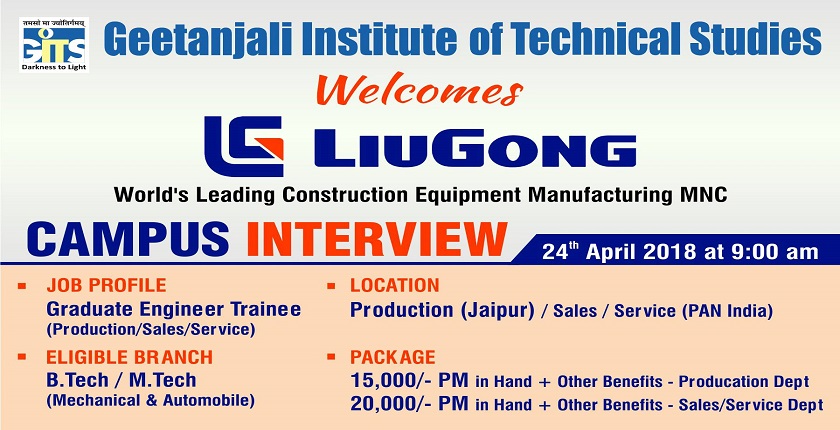 GITS is organizing the Campus Interview of Liugong India Pvt Ltd. (World's Leading Construction Equipment Manufacturing MNC) for GITS B.Tech/M. Tech Mechanical & Automobile students from 2017 & 2018 Batch (Minimum 60% throughout) for the profile of GET on 24th April 2018 at 9:00am.
Company Profile:

LiuGong is a leading construction equipment manufacturer offering a full line of extreme duty, intuitive machines for construction equipment owners constantly challenged to do more with less. LiuGong, headquartered in Liuzhou, China, has one of the most expansive arrays of product line of any Chinese manufacturer, including wheel loaders, excavators, bulldozers, motor graders, pavers, cold planers, skid steers, backhoe loaders, rollers, forklifts, truck mounted cranes, crawler cranes, pipe layers, mining dump trucks and concrete equipment. LiuGong has one of the largest, most sophisticated and comprehensive dealer networks of any Chinese exporter, with more than 300 dealers in over 130 countries and 2,650 sales outlets, all supported by 12 regional offices with adjacent parts depots. It runs 20 manufacturing facilities globally that adhere to Six Sigma quality methods. LiuGong supports a world class R&D function, and has a team of more than 8,000 employees, including 1,000 engineers, standing behind every machine the company makes.
Job Profile:
GET- Engineer Trainee In Production /Quality Dept./ R&D / Vendor Development Parts Localization
Sales Trainee
Service Trainee
Eligible Branch :
B.Tech (ME, AE) /M.Tech from 2017 & 2018 Batch
Package:
INR 15000/- PM In hand + other facility extra as per company policy – for Pithampur Jaipur Plant
INR 20000/- PM In hand + other facility extra as per company policy – work place in any Region (North, South, East, West) Sales & Service Dept.
Job Responsibilities:
Learn manufacturing process and technology of construction equipment and make career in production, QA, R&D, sales & service dept. for different product range (wheel loader/excavator/compactor/ forklift).
Selection Process:
Introduction of Company 15 minutes presentation about LIPL Globally & India Operation
Written Test Pattern : Aptitude, Technical, Logical Reasoning, Other test paper
Group Discussion
Short listing of candidate BY One to one interview +written test+ Project done + Group Discussion
Short Listed candidate call for 2nd Round Technical Interview with Interview Panel at Pithampur Plant
On the basis of 2nd Round Interview result the selected candidate call for HR round.
CAMPUS INTERVIEW OF LIUGONG INDIA PVT LTD. FOR MECHANICAL & AUTOMOBILE STUDENTS