CAMPUS INTERVIEW OF LA NET TEAM SOFTWARE SOLUTIONS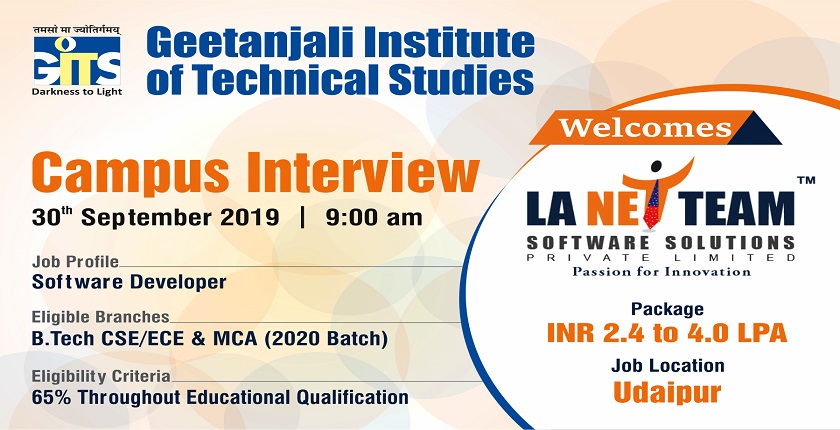 GITS is organizing the Campus Interview of La Net Team Software Solutions for our B.Tech CSE/ECE & MCA students from 2020 Batch for the Profile of Software Developer @ the Package of INR 2.4 To 4 Lacs Per Annum on 30th September 2019 at 9 AM.
Company Profile :

La Net Team Software Solutions is an India based ISO 9001:2008 certified software outsourcing company that offers high quality and cost effective software development services across the world since 2008. One of a top-notch IT establishment in Surat, Gujarat having 250+ young, dedicated & dynamic developers on-board. As we support female empowerment having 70% of female employment in our workforce. Please visit us at www.lanetteam.com for more info.
Job Profile:  Software Developer
Package: INR Rs. 2.4 To 4 Lacs Per Annum.
Eligible Branches: B.Tech/M.Tech (CSE/ECE) & MCA
Eligibility Criteria : 65% Throughout Educational Qualification
Technology:
Angular 2+, .Net Core/MVC, Node/React/Vue JS, React Native, iOS, Android, PHP, WordPress, Magento and many more.
Remuneration:
All students during training are entitled to a stipend of Rs 7,000/- to 10,000/- depending on capability & performance. However, their CTC will be best in the industry and shall range the package from 2.4 LPA to 4.00 LPA based on candidate's performance to be evaluated while completing the training period.
The stipend will be 7 – 10 K for 6 months that will be based on their Grade what will be analysed after 6 months of performance in training.
The package will be 2.4 LPA to 4.0 LPA; will be determined as per their Grade at the end of their training.
The Grade format is: A+, A, B+, B highest the grade will be highest the package up to 4.0 LPA.
December 2023
M
T
W
T
F
S
S
1
2
3
4
5
6
7
8
9
10
11
12
13
14
15
16
17
18
19
20
21
22
23
24
25
26
27
28
29
30
31