CAMPUS INTERVIEW OF COGNUS TECHNOLOGY LTD.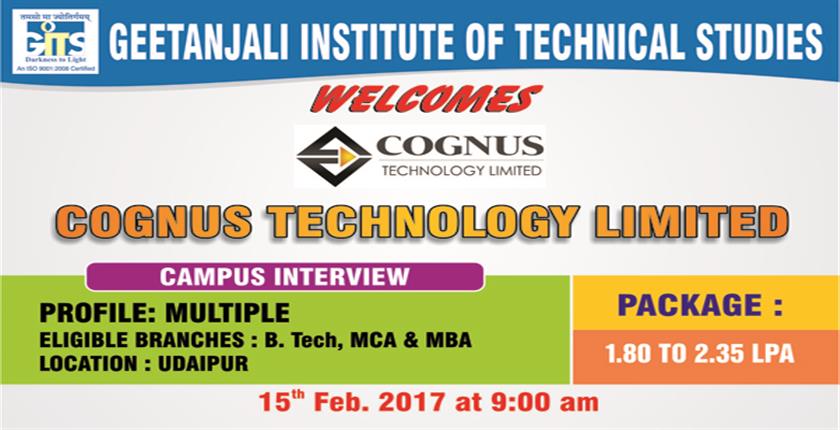 GITS is organizing Campus Interview of Cognus Technology Ltd. (Established in 2008, Cognus Technology is an award winning Software Development Company having multiple development centers in India and UK) for Multiple profile @ Package of 1.80 to 2.35 LPA (In Hand) on 15th Feb. 2017 at 9:00 am.
The Cognus technology's team is comprised of eminent professionals from around the country who have combined experience of 10+ years in Web design, E-commerce development, Digital marketing, Project management, and online branding. Our other ventures are in to E commerce, Real Estate & finance. We have vast experience with PHP, CSS, JS, HTML, and more. Our team also consists of distinguished experts in Pay per Click (PPC), Search Engine Optimization (SEO) and Social Media Marketing (SMM) Services.
Job Profile:
Content Writer (Eligible Branches: B.Tech/MBA/MCA)
Business Associate (Eligible Branch: MBA)
Relationship Manager (Eligible Branch: MBA Marketing)
Business Development Executive
(Eligible Branches: B.Tech/MBA/MCA)
Job Location : Udaipur
Package : 1.80 to 2.35 Lacs Per Annum