CAMPUS DRIVE OF ARGUSOFT INDIA LIMITED
August 8, 2019

Posted by:

admin

Category:

News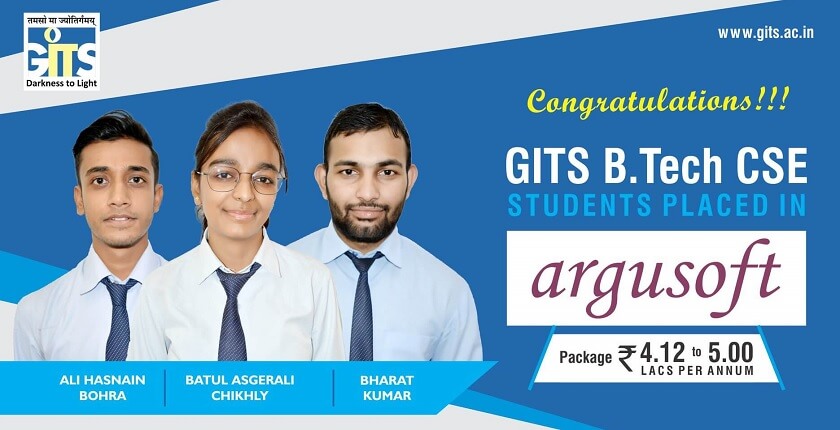 During campus recruitment drive held at GITS, 3 students of B. Tech (CSE) were selected for the Profile of Software Engineer (Trainee) at a package of Rs 4.12 to 5 Lacs per anum by  Argusoft India Limited.
Mr. Arvind Singh Pemawat, Training and Placement Head, informed that Argusoft is a boutique software services company. They augment their client teams with software development, testing, maintenance and support. Their primary focus is Business Automation and SOA system integration, leveraging Java, PHP, DotNet and Web 2.0 related technologies. They deliver these services as turnkey projects or through their extended team model (MODC – Managed Offshore Development Center) to ensure continuity and efficiency.
Mr Ravi Gopalan, President and Mr. Brij Bhushan Dangi, Manager-HR, through a power point presentation briefed the students about the company  and their job profile.
Ali Hasan Bohra, Batul Chikli and Bharat Kumar of B.Tech (CSE) were selected after a rigorous session of two rounds of Online Aptitude and Technical Test followed by Personal & HR Interviews.
Dr. Vikas Misra, Director- GITS and B.L Jangir, Finance Controller, congratulated the selected students and advised that hard work, diligence and integrity would certainly ensure success and a bright future.