2015 GITS-MTMI INTERNATIONAL CONFERENCE ON ISTMWB
December 29, 2015

Posted by:

admin

Category:

News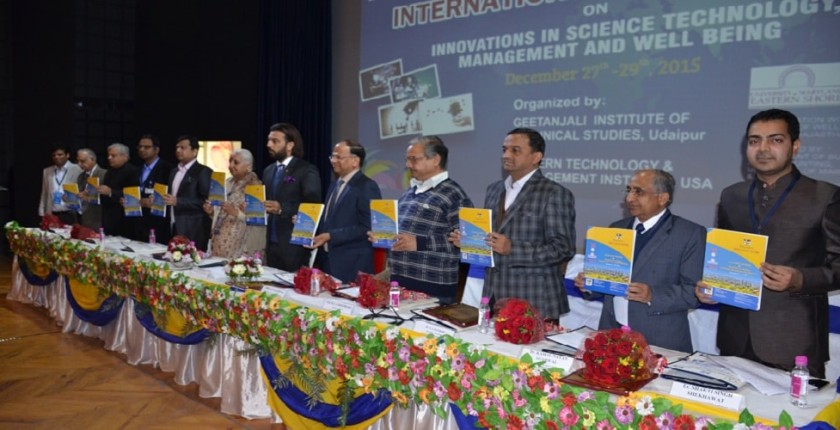 2015 GITS-MTMI International Conference on innovation in science ,technology, management and well-being " was a joint venture of GITS & MTMI USA in associaction with Academy of well being society ,Udaipur, sponsored by University of Maryland eastern shore– and Frostburg state university.
The event was graced with the presence of luminaries like his highness Kumar Shri Lakshaya Raj Singh Mewar,Professor Kamal Nayan from Howard University USA, Professor Sadanand Shrivastava from Bowie State University USA,Dr. P K Dashora Hon'ble VC MPUAT, Prof. B L Chaudhary Chairman RBSE,, Dr. N S Rathore DDG ICAR New Delhi, Professor P K Gupta from IMS DAV Indore,Professor Sunand Kumar from NIT Hamirpur ,Dr. Vijay laxmi Chouhan President AWBS, Dr. M Venu Gopala Rao(Principal GITS) and Dr. Babita Jain Dean Academics RIT Raipur.
Having these dignitaries all together at one place gave a sparkling feeling of royalty, great legacy, insightfulness, perceptiveness and cognizance. 2015 GITS-MTMI International Conference was a 3 days function, a "celebration" of expressing ideas, spreading knowledge, gaining and sharing understanding & discoveries.
The vibrant cultural performances like "Maaro Rajasthan" and typical "Mewari food" embellished the occasion to a level next on 28th Dec Evening.
Around 150+ research papers has been presented during mega event.
We deeply acknowledge the contributions of the guests, management, staff, coordinators, students and all the participants as their endeavors made this event culminate into a memorable grand success.