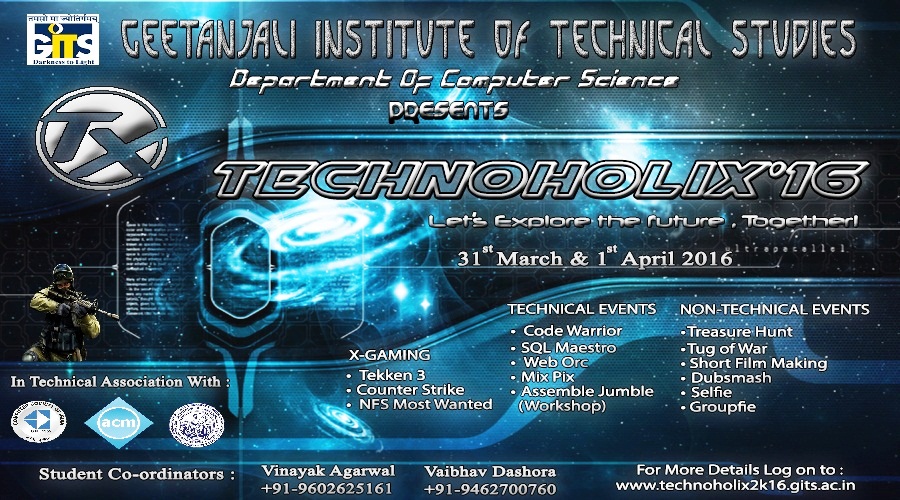 Technoholix is the annual tech-fest of Geetanjali Institute of Technical Studies organised by the Department of Computer Science Engineering in which various technical and non- technical events are organized.This year it is scheduled to organize on 31st March and 1st April.
As the day ends its brightness, the streets that were otherwise witness to some of the fiercest rivalries from geeks wake up to an aura of excitement over the promised entertainment. "TECHNOHOLIX" as the name implies "techno" means technology and "holix" means explore the largest community of creators.
EVENT TAGLINES
Code warrior-Techgenius- myth or reality….?
Web orc-A nook for diligent ,innovative and creative technocrats
SQL maestro-A challenge to the master of database.
Short film making-Technology where creativity of imagination paves path for entertainment.
Treasure hunt-Its not a job, its an adventure.
X-gamer-A fortune for gamer.
Mix Pix-Mixing of images with your imagination.
Dubsmash-Dubbing the known with unknown voice.
Tug of war-Test your strength by tugging on opposite end.
Selfie\ groupfie-Reflection of changing time.
CONTACT PERSONS:STUDENT COORDINATORS
VAIBHAV DASHORA: +91-9602625161
VINAYAK AGRAWAL:+91-9462700760
EVENT WILL START: