4 DIFFERENCES BETWEEN GOVERNMENT & PRIVATE ENGINEERING COLLEGES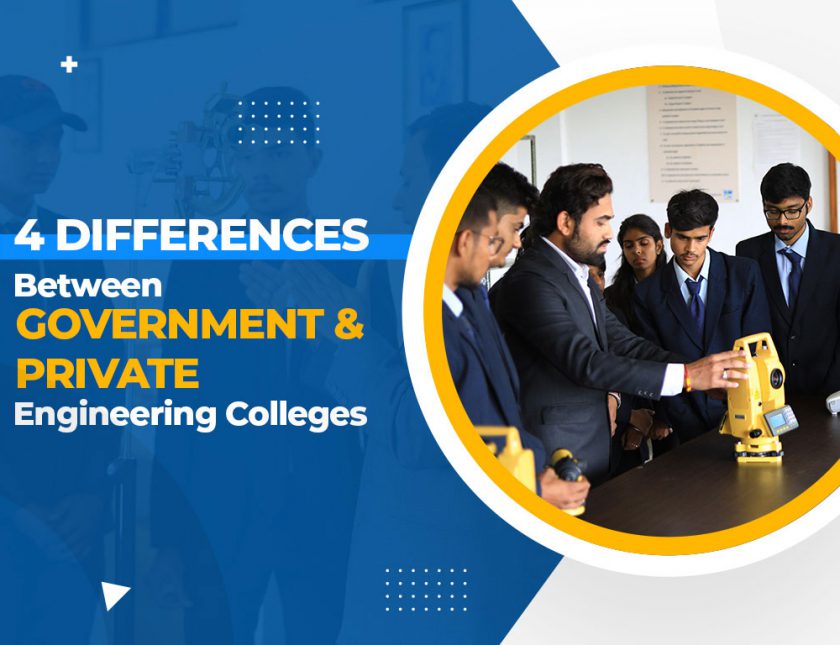 Engineering is one of the top most followed careers in India. Year by year, engineering has become quite popular. There are more than four thousand colleges in the country, out of which only 15% are Government Colleges and the rest are Private Colleges. Every year the country produces more than a million engineers. Further, the journey of being an engineer starts with admission into a reputed engineering college. Looking at the number of government and private engineering colleges in the country , Students are often confused while choosing the right college for their career. Here are four differences between Government and Private Engineering colleges, which might help you to decide to have admission to a private engineering college in India.
1. Affiliation:
Affiliation and accreditation are two important factors to consider when choosing a college or university for further studies. In India, every college shall be approved by AICTE and accredited by NBA. However most government colleges are approved by AICTE, whereas many private colleges are not. But, like famous government colleges, Geetanjali Institute of Technical Studies (GITS) Udaipur is affiliated with Rajasthan Technical University, Kota, and approved by AICTE, New Delhi. In fact, GITS is the Only Institute in Southern Rajasthan having NBA (National Board of Accreditation) accreditation in the Engineering & Management Programs and NAAC (National Assessment & Accreditation Council) accreditation with "A" Grade.
2. The number of seats:
Another factor of difference between private and government colleges is the availability of seats. While there are only few (around 30,000) seats available in top governments, including IITs, NITs, etc. The private engineering colleges of the country offer more than 20 lakhs seats. Thus, it can be noted from the statistics how tough it is to get admission  in government colleges. However, you are always eligible to get admission to a private engineering college in India , but the choice should be perfect in terms of governance, assurance, staff and infrastructure.
3. Placements:
Placement opportunities in engineering colleges are complicated things to compare. While major government colleges like IITs and NITs hold the best placement records, there are few government colleges which aren't even visited by industries. On the other hand, private engineering colleges are also challenging government colleges regarding placements. Considering GITS, Udaipur, the institute holds the best placements record in Udaipur. Big names like Amazon, Samsung (Harman), Reliance Jio, Adani Gas, Adani Wilmar, Bosch, Thermax, TCS, Hexaware, Metacube, Honeywell, Infosys, Wipro, and many more Corporates regularly visit GITS for Campus Interview and placement. It is because our students are being trained as industry ready.
4. Faculty:
Well, there is no second thought that private engineering colleges host world-class faculty in the country who are most experienced and learned compared to government engineering colleges. To be honest, sometimes government colleges do not even meet the minimum number of faculties required, because of its complicated recruitment procedure, however private colleges have their own authority to recruit as per need. GITS is a pioneer as far as its staff are concerned.
Hence, the college fees and infrastructure in different colleges are similar to each other, but there are few differences as far as quality is concerned. Private engineering colleges have higher fees and better infrastructure, but they also give students better placement opportunities. If you want to excel in your engineering career, start your journey with the best engineering college in Rajasthan, like Geetanjali Institute of Technical Studies  (GITS), Udaipur. We are one of the top private engineering colleges holding the best placement records in the region.